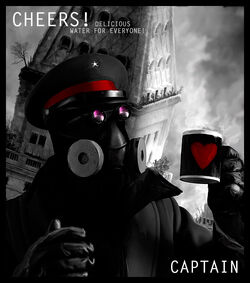 The Captain( real name unknown) is a fictional main character in the webcomic series Romantically Apocalyptic by Vitaly S Alexius. Set in a dystopian future world where nuclear war (hinted to be started by the Captain) between humans and sentient artificial intelligences has devastated the planet, Captain is in command of a motley crew of survivors, whom he refers to as his "minions", as they try to claw out a living in the wasteland.
Appearance
Captain is usually seen in a black trench coat which covers most of his body and is assumed to be radiation proof, quite handy in a world ravaged by nuclear war. He also wears a black scarf like garment and gloves as well as lace up shoes. Captain's most noticeable trait is his custom black gas mask complete with binocular-esque purple eyepieces. He also wears what appears to be a military officer's cap with a red star on it. The Captain is most commonly seen holding a black and white mug with a picture of a red heart on it. This mug is usually filled with hot tea, although how he drinks it without removing his mask is a mystery. His angry face, when seen, is known to cause heads to explode. The viewer of the comic is never shown his face like Pilot, but unlike Snippy and Engineer, whose faces are partially, but never fully seen.
Personality
The Captain is eccentric to the point of being insane. He is inconsistent about his gender and is known to talk to skeletons. His main trait is being completely random in the way he talks and acts. He also sends his subordinates (minions) on fanciful or dangerous missions just for his amusement. Despite this he is known to go out of his way to bail his crew out of trouble such as rescuing Mr.Snippy from an alien abduction. Captain's whimsical attitude usually puts him at odds with the more serious minded Mr. Snippy. Nevertheless the two are shown to get along reasonably well.
Skills and Equipment
T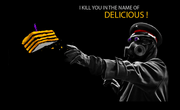 he Captain's main power is his constant good luck. He seems to suffer from a permanent Deus Ex Machina complex, where no matter how bad the situation becomes he is always able to save the day. This ability is most likely why Captain was chosen for Project 7. This power comes in handy when facing down the many, and sometimes ridiculous, threats present in wasteland.
Captain's primary weapon, if it can be called that, is his mug of tea. He has at least once used it's scorching hot contents to disable an alien robot. According to Snippy's journal, he has also used it to threaten his subordinates into submission when they refused to carry out a particular mission. For brief period Captain was in possession of a piece of a slice of very stale, presumably radioactive cake. When threatened, he was able to throw this cake with enough force and accuracy to kill an alien invader through it's helmet. He is also shown to have a "magic satchel", often pulling things, such as a mustache over his gas mask, out of nowhere.